Eleaf iStick Power NANO Kit
Eleaf iStick Power NANO Kit
Eleaf iStick Power NANO Kit
iStick Power Nano with MELO 3 Nano atomizer is a perfectly combined e-cigarette kit in a compact package. Tiny yet efficient, it delivers a satisfying amount of vapor at 40w maximum output and comes with various output modes for different vaping experiences. The MELO 3 Nano can easily be refilled with e-liquid by removing the top cap only. With the new ECML 0.75ohm Head, this optimal match will give you a great vaping experience with nice flavor especially for mouth to lung inhaling.

iStick Power NANO battery parameters:
• Size: 38mm*23mm*55mm
• Color: brusher silver, grey
• Capacity: 1100mAh
• Thread Type: 510 thread
• Output mode: VW/Bypass/Smart/TC(Ni,Ti,SS,TCR-M1,M2,M3) mode
• output wattage: 1 - 40W
• Multiple protection functions such as atomizer short-circuit protection, over 10s protection, low-voltage protection. protection
• Resistance rang: 0.05-1.5ohm (TC modes)
0.1-3.5ohm (VW/Bypass/Smart mode)
• Temperature range: 100-315℃ / 200- 600℉ (TC modes)

MELO 3 Nano parameters:
• Diameter: 22mm
• Length: 52.5mm
• Capacity: 2ml
• Thread type: 510 thread
• Color: Silver


How to charge?
iStick Power NANO battery can be charged through USB port near the top of battery. It will take 2 hours to charge the battery via 1A wall adaptor..


Content (Simple Pack):
• 1x iStick Power NANO battery
• 1x MELO 3 Nano
• 1x EC 0.3ohm coil
• 1x ECML 0.75ohm coil
• 1x USB Cable
• 1x User Manual

The warranty period for particular kit elements is:
2 months from date of purchase:
• iStick Power NANO battery

Additional important information about Sub-Ohm vaping:
Device designed for Sub-Ohm vaping. To safely use this device more vaping experience is required. You should take extra care when you use Sub-Ohm tank. Sub-Ohm coils will only work with a MOD which is capable to work with Sub-Ohm atomizer. Ni200 coils will only work with devices with temperature control (TC). Please make sure that the battery parameters meet the requirements of the device.
Sub-Ohm coils produces bigger throat hit than standard coils. Please make sure that you use liquid with proper nicotine level. We recomend to use lower nicotine level than you have used in standard clearomizer.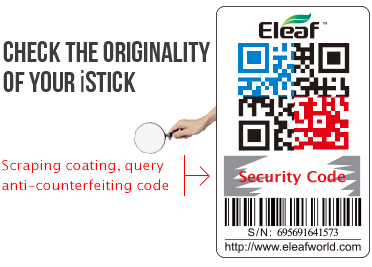 By buying this product you can collect up to 40 loyalty points.