JustFog Compact 16 Battery
Brand: JustFog
JustFog Compact 16 Battery
JustFog Compact 16 Kit
JustFog Compact 16 Battery with 1400 mAh capacity and 4 stage of discharge, these are designed to perfection from the best materials available on the market. Charged by 5pin Micro USB cable
Technical specification:
• Battery colour to choose: Black, Red
• Battery capacity: 1400 mAh Li-ion battery
• Output voltage: 1 LED (3.4V), 2 LED (3.8V), 3 LED (4.2V)
• Expected Charging time: 2.5 - 3.0h
• Recommended resistance: 1.0 - 3.0Ω
• Compact 16 Battery: 24mm x 39mm x 58mm - weight 72g
• Cut-off time: 10 seconds
• Short circuit protection: LED blinks 2 cycles in White- Blue - Red sequence
• Overheating protection: If the battery power button ispressed more than 10 seconds, LED blinks 4 cycles in White - Blue - Red sequence and the protection circuit shuts down the power to prevent overheating.
• Overdischarge protection: When the battery goes down to a certain voltage, the protection circuit will cut off the power to prevent any performance degradation of the battery.
• Overcharge ptotection: When the battery is fully charged, the protection circuit will cut off the power t prevent safety accidents caused by overcharge.
• Overvoltage charge protection: If charging voltage is higher than 6 voltages, the circuit will automatically block the charging power
• Temperature Protection: When temperature of battery circuits (PCBa) reaches to 75C, power shuts down automatically and LED blinks 4 cycles in White - Red sequence.
• Charged by 5pin USB cable.
The battery is equipped with the system signaling the battery charge level:
- 100- 65%, 3 LED will light
- 65 – 30%, 2 LED will light
- 30% and under 1 LED will light
- When the battery is nearly discharged. Red LED Light Blinks 4 time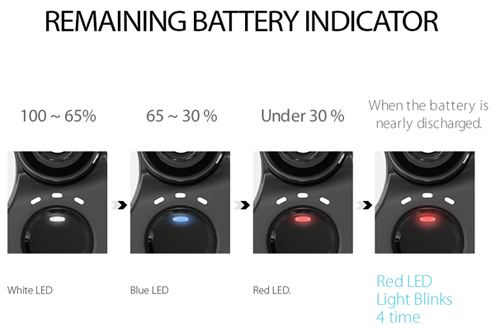 The kit contains:
• JUSTFOG Q16 Pro Clearomizer - 1 pcs
• Compact 16 battery (1400 mAh) - 1 pcs
• 14 series Organic Cotton Coil - 1 pcs
• User guide
All batteries come with a 4-Click ON/OFF feature. To turn the battery ON, click the button rapidly 4 times in 2 seconds. Do the same to turn the battery OFF.

How to charge
• Easy to charge via Micro 5pin USB port. When battery indicate that is full, disconnect the wire. Never leave connected for night time.
• USB Charger must be connected to DC 5V Adapter for Safety

The warranty period for particular kit elements is:
2 months from date of purchase:
• Compact 16 1400 mAh battery
The warranty does not cover Coils or Clearomizer, as these part are quickly used up while the products are put to normal use.
Tip - Compact 16 battery come with a 4-Click ON/OFF feature. This can help prevent you from unintentionally turning the battery ON. Simply press the button 4 times in a row manually to turn the battery either ON or OFF. (Should be done quickly in 2 seconds)