Genuine KangerTech ™ CLAPTON SSOCC Coil Head Kanthal
Genuine KangerTech ™ CLAPTON SSOCC Coil Head Kanthal
• Clapton SSOCC 0,5ohm - 18W-70W

Package Contents:
• 1 x SSOCC Clapton Coil Head Kanthal wire

Fits to:
• KangerTech Nebox
• KangerTech Subvod
• KangerTech Topbox
• KangerTech Subtank Mini
• KangerTech Subtank Nano
• KangerTech Subtank Plus

Caution:
Must prime the coil, wait 30 secounds before vape. Customers need to choose suitable battery which matches Clapton SUB Ohm coil.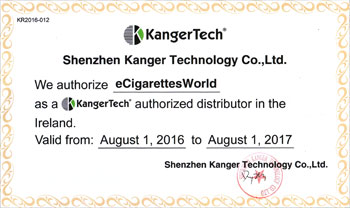 By buying this product you can collect up to 3 loyalty points.