Blackcurrant Menthol - IVG 2400 Disposable Vape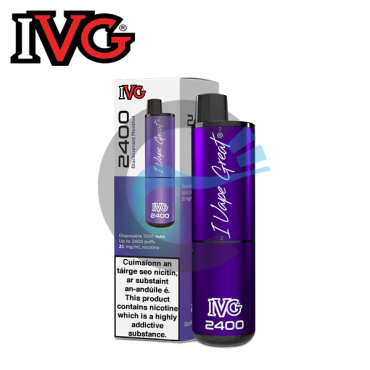 Watch video manual
Brand: IVG
Blackcurrant Menthol - IVG 2400 Disposable Vape
Blackcurrant Menthol - IVG 2400 Disposable Vape
Blackcurrant Menthol - IVG 2400 Disposable Vape - 4 x 2ml Prefilled Cartridges

Device is inhale activated, so there aren't any buttons or settings. Simple inhale through mouthpiece to start vaping. When the cartridge runs out, you can lift and rotate the top half of the device to switch to next one. Please remember to rotate mouthpiece to the same number like cartridge slot. Please see below photos. 

Features:
• Inhale Activated
• Begginer friendly
• Unique rorarting design
• 2% (20mg) Nicotine Salt for smooth throat hit
• Powered by pre charged 1500 mAh battery
• Contains 4x 2ml Cartridges of IVG award winning e-liquids
• Approximately 2400 puffs - Disposable device can vape up to 2400 puffs

Blackcurrant Menthol:
Sweet and tart blackcurrants finished with a cool menthol exhale.
Contains:
• IVG 2400 puff disposable vape
• 4x 2ml IVG Prefiled Cartridges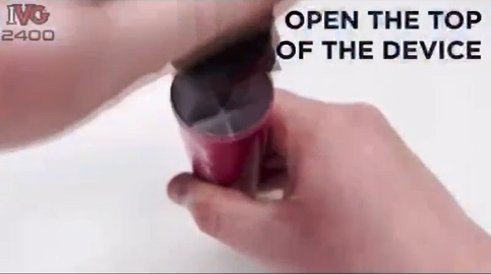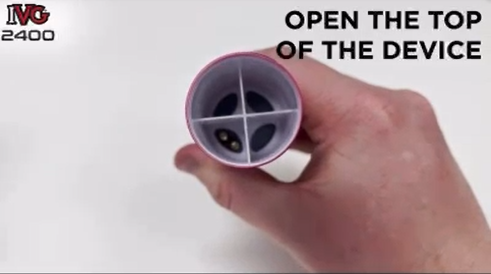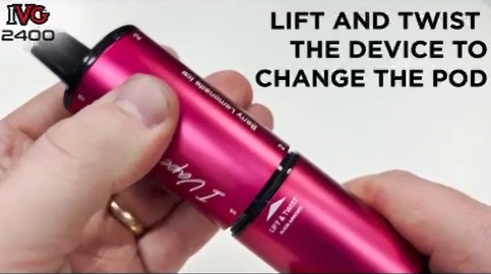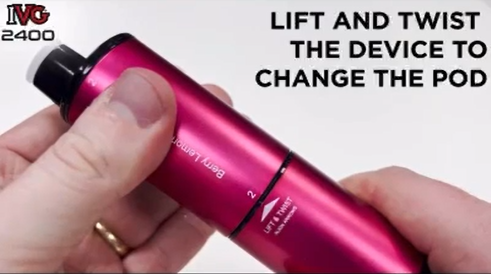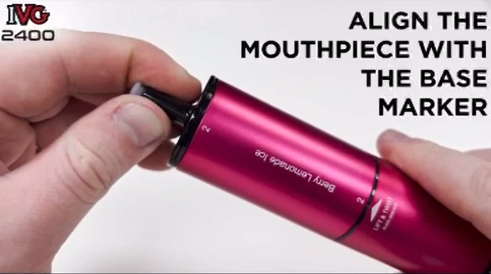 Other available flavors:
• Grape Ice
• Blackcurrant Lemonade
• Ice Pop
• Plum Blue Razz
• Red Apple
• Peach Mango Ice
• Vimtonic
• Tropical Fruits
• Blueberry Fusion
• Heavenly Drops
• Pineapple Ice
• Blackcurrant Menthol
• Strawberry Mint Menthol Mojito
• Strawberry Ice
• Cola Lime
• Lemon and Lime
• Yummy Gummy
• Fizzy Cherry
• Blue Razz Cherry
• Watermelon Ice
• Professor Blue
• Berry Lemonade Ice
• Classic Menthol
• Fresh Mint Menthol Mojito
• Blue Raspberry Ice
• Strawberry Watermelon
• Yellow Edition - Multiflavour
• Blue Edition - Multiflavour
• Pink Edition - Multiflavour
• Purple Edition - Multiflavour

What is a disposable vape device?
A disposable vape device is ready to use as soon as the packaging has been opened. Once it runs out of liquid it can be disposed of. The majority of the vape devices on the market require to be refilled or charged however, disposables are designed to be disposed of once the e-liquid has depleted or the battery has been discharged after up to 2400 puffs. In most cases they cannot be refilled, and they cannot be recharged. Simply use them, enjoy them, and dispose the device once it is used. just simply easy to use.
Composition:
• Vegetable glycerin
• Propylen glycol
• Flavors
• Nicotine (does not apply for liquids containing nicotine 0mg/ml)

We kindly ask you to make thoughtful choices. The product is disposable - it is not subject to exchange, returns and is not covered by the warranty. Due to the individual method of use: duration of puffs - their number may be greater or less. The battery may become discharged even before all cartridges have been used.

We are sorry, but we do not accept the exchange / return of liquids after purchase. Health and safety reasons. Please make sure that you picked proper flavour and proper nicotine level.
Cuimsíonn an táirge seo nicitín, ar substaint an-andúile é. This product contains nicotine which is a highly addictive substance. Harmful in contact with skin. If medical advice is needed, have product container or label at hand. KEEP OUT OF REACH OF CHILDREN. Read label before use. IF ON SKIN: Wash with plenty of water and soap. Call a POISON CENTER, doctor, physician, if you feel unwell. Dispose of contents/container in accordance with regional regulation. If medical advice is needed, have product container or label at hand. This product is not recommended for use by non-smokers.Product for use with e-cigarettes only. Store in cool & dry plce in original package. Women who are pregnant or breastfeeding should not use it.