Heisenberg - Koncept 50ml Vampire Vape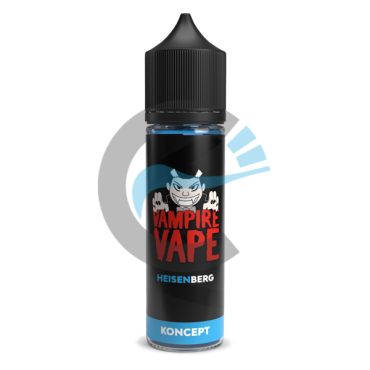 Heisenberg - Koncept 50ml Vampire Vape
Heisenberg - KonceptXIX 50ml
Heisenberg - KonceptXIX 50ml A top secret recipe that can only be described as the daddy of the all day vape! A fruity undertone and a cool crystal after sensation that will leave you wondering what it is... and wanting more.


Flavour Profile:
# Fruit Mix
# Cool Kick


The KonceptXIX range is an 70 VG / 30 PG mix E-Liquid. It is also 50ml of Nic shot ready Liquid in a 60ml bottle.
• Nicotine Free
• Designed and works best in Sub ohm Vaping Device
• 70% VG
• 30% PG
Bottle size:
• 60ml
• 50ml of liquid in the bottle
• Space for 10ml nicotine shot
+ 1 Nic Shot included

Nicotine levels:
• Zero 0mg - No Nicotine





How the nicotine shot works? Really easy! Just 3 simple steps:
Step 1: You need 60ml bottle with 50 ml liquid of extra concentrated + 10ml bottle with 18mg/ml of no flavour (nicotine shot)
Step 2: Pour all 10ml bottle into your 60ml bottle with extra concentrated flavor
Step 3: Shake it! ..alot and leave in dark cabinet for a few days to get more rich flavor
That's it! Simple right? Now you have 3mg of nicotine.



We are sorry, but we do not accept the exchange / return of liquids after purchase. Health and safety reasons. Please make sure that you picked proper flavour and proper nicotine level.
Cuimsíonn an táirge seo nicitín, ar substaint an-andúile é. This product contains nicotine which is a highly addictive substance. Harmful in contact with skin. If medical advice is needed, have product container or label at hand. KEEP OUT OF REACH OF CHILDREN. Read label before use. IF ON SKIN: Wash with plenty of water and soap. Call a POISON CENTER, doctor, physician, if you feel unwell. Dispose of contents/container in accordance with regional regulation. If medical advice is needed, have product container or label at hand. This product is not recommended for use by non-smokers.Product for use with e-cigarettes only. Store in cool & dry plce in original package. Women who are pregnant or breastfeeding should not use it.
Data sheet
Bottle Size -

50 ml

PG / VG Ratio -

PG30 / VG70