Slow Blow - Nasty Salt Juice 10ml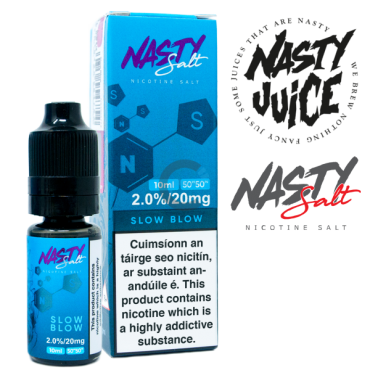 Slow Blow - Nasty Salt Juice 10ml
Slow Blow - Nasty Salt Juice 10ml
Nasty Salt is Specially Formulated using the Best Ingredients, to deliver nicotine faster.

Nasty Nicotine Salt Juice in Ireland Sweet pineapple flavour layered with lime soda that will surely make you taste its freshness without getting bored! The thin pineapple slice ensures you enjoy inhaling it until its last drop. It's all topped off with a hint of low mint so e juice tastes like a tropical slushie drink.

Best used in a low wattage device.

Flavour profile:
# Pineapple
# Lemonade
# Low Mint for icy finish

• 10ml bottle
• Designed and works best with starter kits and POD devices
• Not suitable for Sub ohm
• 50% PG 
• 50% VG
• Nicotine Salt e-liquid

Available in 10mg and 20mg


Composition:
• Vegetable glycerin
• Propylen glycol
• Flavors
• Nicotine (does not apply for liquids containing nicotine 0mg/ml)


We are sorry, but we do not accept the exchange / return of liquids after purchase. Health and safety reasons. Please make sure that you picked proper flavour and proper nicotine level.
Cuimsíonn an táirge seo nicitín, ar substaint an-andúile é. This product contains nicotine which is a highly addictive substance. Harmful in contact with skin. If medical advice is needed, have product container or label at hand. KEEP OUT OF REACH OF CHILDREN. Read label before use. IF ON SKIN: Wash with plenty of water and soap. Call a POISON CENTER, doctor, physician, if you feel unwell. Dispose of contents/container in accordance with regional regulation. If medical advice is needed, have product container or label at hand. This product is not recommended for use by non-smokers.Product for use with e-cigarettes only. Store in cool & dry plce in original package. Women who are pregnant or breastfeeding should not use it.
| Quantity | Price after discount |
| --- | --- |
| 10x | € 4.50 each |
| 5x | € 4.65 each |
Available as a free voucher product
Data sheet
Bottle Size -

10 ml

PG / VG Ratio -

PG50 / VG50