Genuine KangerTech ™ E-smart 808D Battery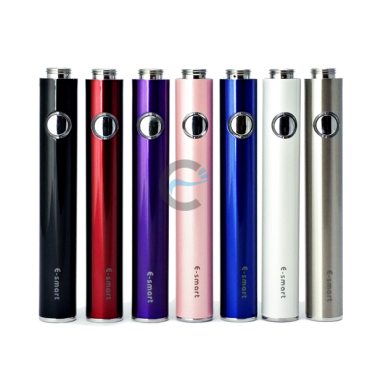 Brand: KangerTech
Genuine KangerTech ™ E-smart 808D Battery
Kanger Esmart 808D batteries have an output at a regulated voltage of 3.4V. They'll provide consistent vapor production throughout each charge cycle. E-Smart batteries use the 808D male thread. Fits only to E-smart 808D clearomizer

Available colors: 
• Silver,
• Black,
• Purple,
• Cherry,
• White,
• Pink,
• Blue

Package contains: 
• 1x E-smart 808D 320mAh battery
• Charger is not included. Can be bought separately.

KangerTech E-smart 808D specifications:
• Dimensions: 10mm x 70mm
• Output Voltage: 3.4v
• Short Circuit Protection
• Overcharge Protection
• 5-click ON/OFF 
• Capacity: 320mAh
• Threading: 808D


Tip - All batteries come with a 5-Click ON/OFF feature. This can help prevent you from unintentionally turning the battery ON. Simply press the button 5 times quickly in 2 seconds to turn the battery ON or OFF.


The warranty period for battery is:
30 days from date of purchase:
• 320 mAh manual battery

Caution:
1. Do not charge the cell outdoors and keep away from water.
2. Do not use this battery for others purpose except only for vaping
3. Do not touch or spill the nicotine juice
4. Do not try to disassemble the battery
5. Do not disposal battery to fire or use it in extreme temperature
6. Suitable range of using temperature is 5 - 45 degree C
7. Do not use e-cigarette while driving
8. Do not swallow the e-juice
9. Do not use the electronic cigarette more frequently or for longer periods than conventional cigarettes. The electronic cigarette is not a smoking cassation device.
10. Choose suitable wattage to prevent damage to the coil
11. Keep all components away from children and pets
12. This kit is intended for use by adults and not by children, women who are pregnant or person having disease or sick which may affect by this product
13. For people with adverse reaction after using this product, it is recommended to use the e-liquid with lower nicotine content or no nicotine
14. Improper use of this product may take their own risk
15. KangerTech and eCigarettes World will not guarantee products that have been damaged by improper use or intentional damage