Aspire Nautilus X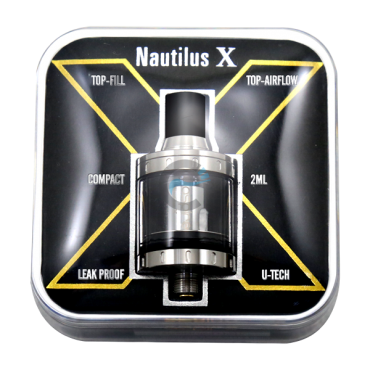 Aspire Nautilus X
Aspire Nautilus X
The Nautilus X represents the peak of the Aspire atomizer development curve. Specially designed to provide a premium vaping experience with increased flavor, and unique U-Tech coil technology for all-new airflow performance, this is the future of micro tanks.

Poised to transform how vapers experience flavor and hassle-free day-to-day usability. The Nautilus X is the future. Born from the creative minds of the original global vaping pioneers, Aspire.

Nautilus X U-Tech Coils
Nautilus X coils are now rated at 1.5Ω (14-20 watts) The Nautilus X coils incorporate U-Tech, the latest coil technology. Vape flows through the U-shaped chamber and passes the Kanthal coils twice before being inhaled. This all-new airflow performance allows for unrivaled vape flavor and e-juice taste.

The Nautilus X has a quick & clean top-fill tank.Refill your 2ML tank in literally only seconds. You can drip, drop or pour your E-liquid into the Nautilus X tank and be back vaping in no time.

The Nautilus X features adjustable Top-Airflow. Not only does the Airflow Control (AFC) help you to change the airflow in the Nautilus X, Adding Top-Airflow ensures your tank will not leak from the bottom over time.

Technical parameters:
• Atomizer capacity: 2 ml
• Heater's resistance: 1.8 ohm (12 - 16W) or 1.5 ohm (14 - 20W)
• Thread: 510
• Dimensions:
- Width: 22 mm
- Height (with drip): 45 mm

The kit contains:
• 1x Aspire Nautilus X with 1.8 ohm coil (12 - 16W)
• 1x 1.5 ohm coil (14 - 20W)
• 1x replacement Pyrex Tube

Additional important information about Sub-Ohm vaping:
Device designed for Sub-Ohm vaping. To safely use this device more vaping experience is required. You should take extra care when you use Sub-Ohm tank. Sub-Ohm coils will only work with a MOD which is capable to work with Sub-Ohm atomizer. Ni200 coils will only work with devices with temperature control (TC). Please make sure that the battery parameters meet the requirements of the device.
Sub-Ohm coils produces bigger throat hit than standard coils. Please make sure that you use liquid with proper nicotine level. We recomend to use lower nicotine level than you have used in standard clearomizer.
By buying this product you can collect up to 20 loyalty points.