Aspire Cleito EXO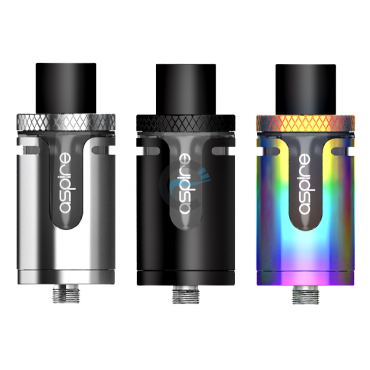 Brand: Aspire
Aspire Cleito EXO
Aspire Cleito EXO Clearomizer
Employing the latest in flavor enhancing tank technology, Cleito EXO. Prepare to produce your own microclimate! New topside airway to bottom side chimney intake will take flavor and vapor production to next levels, as well as guaranteeing zero leaks. Top fill, easy to disassemble for ultra-low maintenance and convenience of everyday use. Utilizing the well-established Cleito coils, brings you storm clouds of flavor.
As well as its simplicity in design and high vaping performance, this tank also comes with a range of colors: Stainless Steel, Black, Blue, Anodized Rainbow and Bronze to meet your different color preferences.

The Cleito EXO has an improved airflow system, with the air slots wide open on the top-side of the tank, the airflow travels from the top then passes the coil, bringing you massive flavor and vapor production.

With its fully interchangeable coils with the Cleito tank just adds more convenience to your daily vaping. When a Cleito coil is installed the tank capacity will become 3.5ml. The larger sized pre-installed 0.16ohm coil makes tank capacity 2ml. (Cleito EXO 2ml is compliant with TPD regulations).


How to fill
Top E-liquid Filling: The e-liquid can easily be filled by removing the top cap only. Please let the tank stand for 5 minutes, so the cotton can be saturated with juice before using.
Note:
1. Please don't add e-liquid into the air pipe.
2. Please don't overfill and make sure the e-liquid level is between 10%-90%.
3. Please first drip a few drops of e-liquid directly into the wick of the coil to make it fully saturated before first use.
4. Please use proper PG/VG ratio liquids for this type of tank
How to fit / exchange coil
1. Make sure the device is turned off
2. Unscrew the top cap and gently remove the plastic tube
3. Screw the coil tightly all the way in (a loose coil will cause the clearomizer to leak from airflow)
4. Mount the plastic / glass tube 
5. Now is the time to fill the tank with liquid and screw the top cap
6. Unlock your device

Technical parameters:
• Clearomizer capacity: 2 ml
• Coils resistance: 0.16Ω (60w - 100w)
• Thread: 510
• Dimensions:
   - Diameter: 23.5 mm
   - Height (with drip): 57 mm
• Top fill clearomizer

The kit contains:
• Aspire Nautilus 2 Clearomizer
• Coil 0.16Ω (pre instaled)
• Coil 0.16Ω (spare)
• Drip tip (spare)
• O-rings (spare)

Sub ohm device. Worth reading before buying:
This type of tank is intended for the user with grater knowledge and experience. Coils used are below 1.0 ohm so that higher Wattage could be used. Before you use please read manual.
For Sub ohm tanks we recommend that you do not use liquids with nicotine higher than 6mg / ml and only good quality liquids with 50/50 PG / VG or higher VG. Tanks of this type produce a lot more of vape, which results in a stronger hit to the throat (like higher nicotine in the basic device). Ask if you're not sure ... we don't bite ;-)

IMPORTANT! When using a new coil, let the device stand for 5 minutes, so the cotton can be saturated with juice before firing. Do not let the tank become completely empty. Refill the tank to avoid dry burning or damage to the coil.