Eleaf GS Turbo Tank Atomizer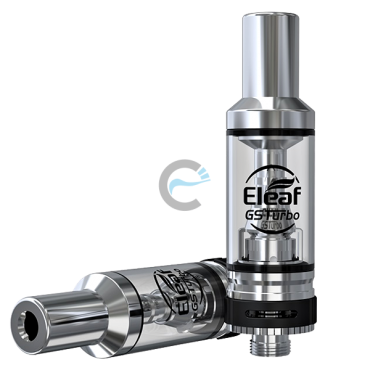 Brand: Eleaf - iSmoka
Eleaf GS Turbo Tank Atomizer
Eleaf GS Turbo Tank Atomizer
The GSTurbo is designed to deliver the purest flavor of your e-liquid. Better airflow system that use a 5-hole and a wide slot for air inflow. Thats mean a great vaping experience simply by freely twisting the airflow control ring to get the optimal airflow. 

Standard configuration:
• 1x GSTurbo Atomizer
• 1x GS Air 0.75ohm Head
• 1x GS Air 1.5ohm Head
• 1x User Manual

Parameter:
• Diameter: 15mm
• Height: 58mm
• Weight: 28.7g
• E-liquid capacity: 1.8ml
Easy to Clean
Parts of the GSTurbo atomizer can be detached and reassembled, very convenient to clean.
Refined Airflow System
The GSTurbo newly introduces a much more sophisticated airflow system. You'll have a great vaping experience simply by freely twisting the airflow control ring to get the optimal airflow.
Well-selected GS Air Coils
With the well-selected GS Air coils, the iStick Trim with GSTurbo is designed to deliver the purest flavor of your e-liquid.
How to fill the tank?
1. Screw off the atomizer base;
2. Slowly fill the tank with e-liquid through the side slot; Pay attention don't add liquid into the air pipe and do not overfill, leave a small air pocket in order to avoid leakage.
3. Screw the atomizer base with atomizer head back after filling.
How to replace GS Turbo head?
1. Screw the base off GS Tank atomizer firstly.
2. Unscrew the atomizer coil from the base and replace a new one.