Aspire Revvo 2ml Clearomizer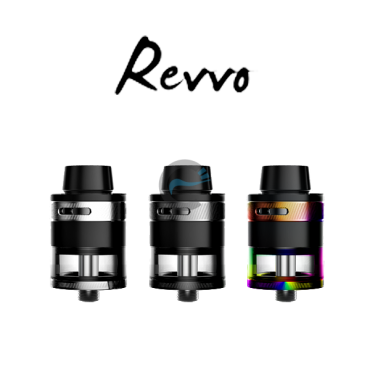 Brand: Aspire
Aspire Revvo 2ml Clearomizer
Aspire Revvo 2ml Clearomizer
Aspire Revvo 2ml tank design with an innovative new type of coil, the ARC 'Aspire Radial Coil'. It has an adjustable top airflow construction and a special spring loaded filling tube. Whichever you choose you'll be amazed by the innovation that Aspire has put into this fantastic new design.

No one has yet produced such an innovative replaceable coil for an tank until now. The fantastic all new coil design, the ARC, 'Aspire Radial Coil', sits horizontally in the tank similar to a 'stove-top' design. Of course the real trick in the design is the increased surface area of the coil for great flavor and great vapor production rated at 0.10-0.16ohm using Kanthal AF wire.


Revvo Tank Filling: Filling your new Revvo tank is another of Aspire's innovative designs, and it couldn't be simpler. In the centre of the tank, accessible directly through the mouthpiece, sits a spring loaded filling tube. The spring of the tube is soft enough to allow even slight pressure from almost any type of bottle/glass dropper to open it, but strong enough to create a leak proof seal when released after filling and the strong Pyrex glass tank allows you to see at a glance the amount of e-liquid in the tank.


ARC coil Installation: Simply unscrew the mouthpiece/top-cap, unscrew the coil mounting screw, remove the used coil, drop another coil over the filling tube, ensure that it is sitting flush with the body of the tank around all sides, screw on the coil mounting screw and the mouthpiece/top-cap and that's it! It can even be changed with e-liquid still in the tank. As an added function, the conical coil mounting screw also acts as a spit-back protector, just in case.


Revvo airflow: To get the maximum benefit from the impressive revolutionary ARC coil, we also designed an equally impressive airflow system. So The Revvo has a fully adjustable top airflow by way of 3 airflow slots. The air is drawn down over and around the radial coil maximizing the vapor and flavor delivered through the mouthpiece for the most satisfying vape experience.
Specifications:
• Replecable coil
• Capacity: 2ml
• Height 41mm
• Diameter 24mm
• Available resistance: 0.1Ω - 0.16Ω
• Suggested wattage: 50 - 100W
Package Contents: 
• 1x Aspire Revvo 2ml tank
• 2x Coils 0.1Ω - 0.16Ω
• 1x Glass Tube
• 10x O-rings
• 1x Manual
• 1x Protective silicone cap

Price for 1 unit 


IMPORTANT! When using a new coil / clearomizer, let the tank stand for 5 minutes, so the cotton can be saturated with juice before firing. Do not let the tank become completely empty. Refill the tank become completely empty. Refill the tank to avoid dry burning or damage to the coil / clearomizer.