Eleaf GZ Coil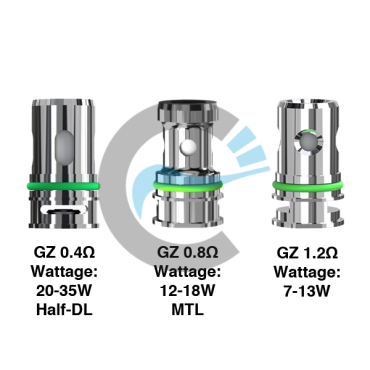 Brand: Eleaf - iSmoka
Eleaf GZ Coil
Eleaf GZ Coil
Eleaf GZ Coils: 0.4Ω (20 - 35W Half-DL), 0.8Ω (12 - 18W MTL), 1.2Ω (7 - 13W)


What's in the box?
1x coil of your choice - make sure the coil will fit your tank

GZ 0.4Ω 
• GZ 0.4Ω Coil
• Vape Style: Half-DL
• Wattage Range: 20-35W
• Coil material: Kanthal
• Suits to Eleaf iStick P100, iStick S80 and GZeno Tank

Eleaf GZ 0.4 ohm coil are designed for ever dense vapor and great flavor with the maximized interaction between e-liquid and cotton.

GZ 0.8Ω
• GZ 0.8Ω Coil
• Vape Style: MTL
• Wattage Range: 12-18W
• Coil material: Kanthal
• Suits to Eleaf iStick P100, iStick S80 and GZeno Tank

Eleaf GZ 0.8 ohm coil is designed for ever dense vapor and great flavor with the maximized interaction between e-liquid and cotton.
GZ 1.2Ω
• Resistance: 1.2Ω
• Wattage: 7-13w
• Vape Style: MTL
• Coil material: Kanthal
• Suits to Eleaf iStick P100, iStick S80 and GZeno Tank
Eleaf GZ Coil is specially designed for MTL vaping. It is composed of Kanthal and Organic Cotton, and its resistance value is 1.2 ohm.
The size of the Eleaf GZ coil is only 20*11.8mm, the weight is only 18G, and the push-pull installation method is very easy to replace.
Eleaf GZ coil can be applied to Eleaf GZeno Tank and Eleaf iStick S80. Its best working power is 7-13W, which can bring you the purest flavor.
The warranty does not cover Coils or Clearomizer, as these parts are quickly used up while the products are put to normal use.
IMPORTANT! When using a new coil / atomizer / clearomizer, let the tank stand for 5 minutes, so the cotton can be saturated with juice before firing. Do not let the tank become completely empty. Refill the tank become completely empty. Refill the tank to avoid dry burning or damage to the atomizer / clearomizer.