Innokin JEM Kit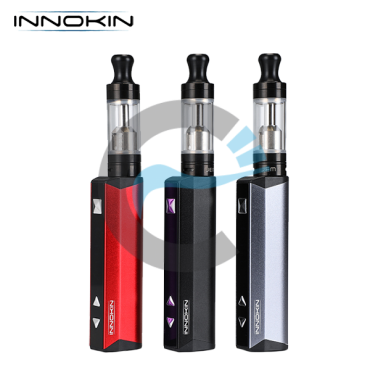 Watch video manual
Brand: Innokin
Innokin JEM Kit
Innokin JEM Kit

Innokin JEM Kit with 1000mAh battery

Main features:
Battery Capacity: 1000mAH Li-Po battery
Easy 5 Level Wattage Adjust: 10W, 11W, 12W, 13W, 13.5W
Clearomizer: 2ml
Coil: 1.6 Ohm
Adjustable Airflow Control

How to charge
• Easy to charge via Micro 5pin USB port. When battery indicate that is full, disconnect the wire. Never leave connected for night time and never leave the device connected to the charger unattended. If you do, you do so at your own risk.
How to fill the Innokin Clearomizer:
1. Unscrew the top.
2. Tilt clearomizer at 45 degree angle.
3. Insert needle tip and fill with e-liquid (avoid small metal hole)
4. Fill clearomizer to top fill line.
5. Screw top back on.

How to fit / exchange coil
1. Make sure the clearomizer is detached from the battery.
2. Turn the clearomizer upside-down, so that the mouthpiece is pointing towards the floor.
3. Unscrew the base of the clearomizer (the part that screws into the battery).
4. Unscrew the coil from the base and fit new. Screw the coil tightly all the way in (a loose coil will cause the clearomizer to leak from airflow)
5. Now is the time to fill the tank with liquid.
6. Screw the base with new coil back onto the clearomizer body.
7. Screw the clearomizer onto your battery.
Contents:
• 1x JEM clearomizer
• 1x JEm 1000 mAh battery
• 1x JEM 1.6 Ohm coil
• 1x Micro USB Charging Cable

The warranty period for particular kit elements is: 
30 days from date of purchase:
• 1000 mAh battery 

The warranty does not cover Coils or Clearomizer, as these part are quickly used up while the products are put to normal use.

Tip - The batteries all come with a 5-Click ON/OFF feature. This can help prevent you from unintentionally turning the battery ON. Simply press the button 5 times in a row manually to turn the battery either ON or OFF.