Aspire Breeze 2 Kit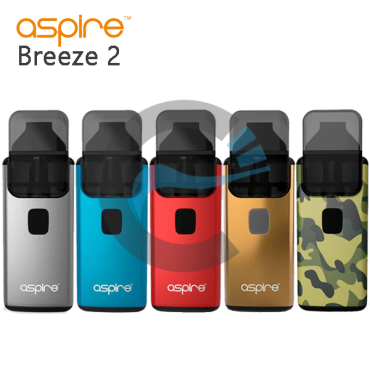 Watch video manual
Brand: Aspire
Aspire Breeze 2 Kit
Aspire Breeze 2 Kit
Aspire Breeze 2 Kit. Optimized for both Nicotine Salt and CBD vape juices, the Breeze 2 boasts multi-functionality and reliability at a low cost. Try it today!

Aspire Breeze 2:
• Press the button to fire
• Built-in battery capacity: 1000 mAh
• Adjustable Airflow
• 2ml capacity Pod
Tip - The batteries all come with a 5-Click ON/OFF feature. This can help prevent you from unintentionally turning the battery ON. Simply press the button 5 times in a row manually to turn the battery either ON or OFF.  
Package Contains:
• 1x Breeze 2 Battery Unit
• 1x Breeze 2 Pod (2ml)
• 2x Breeze 2 Coil (0.6Ω and 1.0Ω) 
• 4x Extra O Ring
• 1x Micro USB Charging Cable
• 1x User Manual
Important: When using the atomizer/coil/Pod for the first time, make sure to let the E-liquid wick until the cotton is fully saturated before firing. This should take around 5-10 minutes according to E-Liquid thickness. This will ensure your atomizer does not burn out

The warranty period for particular kit elements is: 
30 days from date of purchase:
• Breeze 2 battery
Sub ohm device. Worth reading before buying:
This type of device is intended for the user with grater knowledge and experience. Coils used are below 1.0 ohm so that higher Wattage could be used. Before you use please read manual. Often, this kits are equipped with additional options that allow you to adjust Wattage.
For Sub ohm devices we recommend that you do not use liquids with nicotine higher than 6mg / ml and only good quality liquids with 50/50 PG / VG or higher VG. Devices of this type produce a lot more of vape, which results in a stronger hit to the throat (like higher nicotine in the basic device). Ask if you're not sure ... we don't bite ;-)