Joyetech EXCEED Grip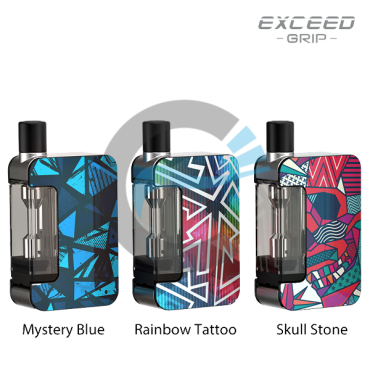 Joyetech EXCEED Grip
Joyetech EXCEED Grip
Pocket box, Comfortable to hold. Exceed Grip is such a compact device which can fit your hand comfortably and smartly, making it very portable in your pocket.



Multi Protections for Vaping Safety
Safety for use is always our first priority. Multi protections including overall battery protections of over-charging, over-current and over-discharging, making it more advanced and reliable.


Charging & Indication
Simply charge the device by connecting it with a computer or with a wall adapter (output DC:5V) via USB cable. The light indicates red while charging and goes out after fully charged. It also indicates the battery life with different light colors as follows.
• > 20% white light
• < 20% red light


Tip - The batteries all come with a 5-Click ON/OFF feature. This can help prevent you from unintentionally turning the battery ON. Simply press the button 5 times in a row manually to turn the battery either ON or OFF


Technical parameters:
• Battery capacity: 1000 mAh
• Tank capacity: 2 ml

• Dimensions:
• height 74 mm
• width 40 mm
• depth 21 mm
• weight 74 mm
• Output Mode: Intelligent variable voltage output
• Coil head: EX-M 0.4ohm Head/EX 1.2ohm


The kit contains:
• 1 * EXCEED Grip Battery (1000mAh)
• 2 * Standard Cartridge (2ml)
• 1 * EX-M 0.4ohm coil head (Pre-installed in Cartridge)
• 1 * EX 1.2ohm Coil (Pre-installed in Cartridge)
• 1 * E-Liquid Bottle(12ml)
• 1 * USB Cable

The warranty period for particular kit elements is:
1 months from date of purchase:
By buying this product you can collect up to 24 loyalty points.