Target 100 MOD Vaporesso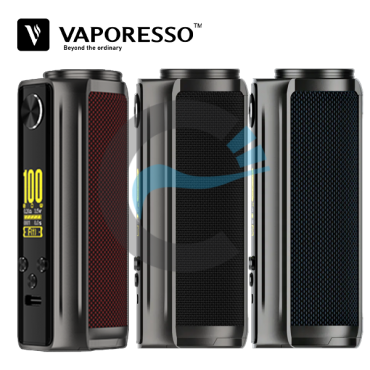 Brand: Vaporesso
Target 100 MOD Vaporesso
Target 100 MOD Vaporesso 
Target 100 MOD Vaporesso single battery version (battery not included). The unique cage-like frame and the innovative water resistant braid, altogether make the mod more durable and comfortable in hand.
• Durable yet compact
• Water-resistant braid
• AXON Chip
• Type-C / 2A Quick Charge

AXON Chip: The F(f) mode in the AXON Chip provides a precise heating rate control and the full vaporizarion of different flavours at different temeperatures.

Updated UI system: more user friendly and brighter to read under the sunlight
Available colours:
• Navy Blue
• Carbon Black
• Sunset Red

Main features: 
• Length: 35.1mm
• Width: 28.6mm
• Height: 87.8mm
• Battery: 1x 21700 / 18650 (not included)
• Power Range: 5-100W
• AXON Chip 2.0
• Resistance Range: 0.03~5Ω
• Charging Current: DC 5V/2A Type-C
How to charge
• Easy to charge via USB Type-C port or you can use external charger for 18650 battery (recommended). When battery indicate that is full, disconnect the wire. Never leave connected for night time and never leave the device connected to the charger unattended. If you do, you do so at your own risk.
Sub ohm device. Worth reading before buying:
This type of device is intended for the user with grater knowledge and experience. Coils used are below 1.0 ohm so that higher Wattage could be used. Before you use please read manual. Often, this kits are equipped with additional options that allow you to adjust Wattage.
For Sub ohm devices we recommend that you do not use liquids with nicotine higher than 6mg / ml and only good quality liquids with 30/70 PG / VG or higher VG. Devices of this type produce a lot more of vape, which results in a stronger hit to the throat (like higher nicotine in the basic device). Ask if you're not sure ... we don't bite ;-)
The kit contains:
• 1 x Target 100 MOD
• BATTERY 21700 / 18650 - NOT INCLUDED - please buy separate 
• 1 x Type-C USB Cable
• 1 x User Manual
The warranty period for particular kit elements is: 
2 months from date of purchase:
• Target 100 MOD

Tip - All batteries come with a 5-Click ON/OFF feature. This can help prevent you from unintentionally turning the battery ON. Simply press the button 5 times quickly in 2 seconds to turn the battery ON or OFF