Wide Wick Pod Kit - Joyetech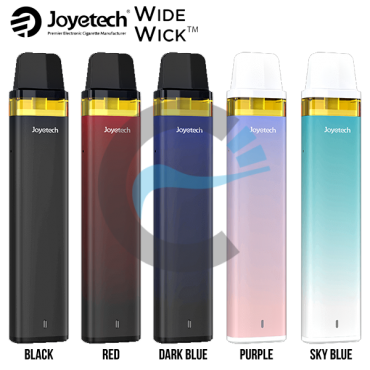 Brand: Joyetech
Wide Wick Pod Kit - Joyetech
Wide Wick Pod Kit - Joyetech
Wide Wick Pod Kit - Joyetech Joyetech Widewick pod kit is the first pod kit to adopt the WideWick technology. The advantage of WideWick technology are making the e-liquid intake throughly from all rounds, heating more evenly without spit-back and no dry heats. Two airflow inlets allow you enjoy the pure MTL vaping. If you'd like the MTL vaping method, you can't miss this widewick kit. Besides, Widewick pod kit is very small and easy to use. You can vape it directly without any button. Joyetech widewick is very begginer friendly.
How to charge
• Easy to charge via USB Type-C port.The indicator light stays lit white charging and goes off when full charge.
How to fill
Simply pull up the mouthpiece along a slightly sloping direction to fill, easy and convenient. Do not over-fill, and please wait five minutes before first use to let the coil inside fully soaked.
Note:
1. Please don't add e-liquid into the air pipe.
2. Please don't overfill and make sure the e-liquid level is between 10%-90%.
3. Please first drip a few drops of e-liquid directly into the wick of the coil to make it fully saturated before first use.
4. Please use proper PG/VG ratio liquids for this type of tank. Sugested 50:50 PG:VG and Nic Salt Liquids
How to fit / exchange Pod
Simple replace old one with new Pod into device.
There is no coils to change. You replace whole Pod

Vaping
Inhale directly to take a puff. When vaping, the indicator light stays lit.
Technical parameters:
• Battery capacity: 800 mAh
• Pod capacity: 2ml

Dimensions:
      • height 113 mm
      • width 23.5 mm
      • depth 12.5 mm

Specification
• Battery capacity: 800 mAh
• Pod capacity: 2ml
• Coil resistance: 1.2ohm (mesh)
• Pod to battery connection: magnet
• Output Wattage: 9-12W
• Charging: 5V / 0.5A USB-C

The kit contains: 
• 1 x Wide Wick Battery
• 1 x Wide Wick Pod (2ml)
• 1 x User Manual
The warranty period for particular kit elements is: 
1 months from date of purchase:
• Wide Wick Battery 

The warranty does not cover Coils or Pods, as these part are quickly used up while the products are put to normal use.