Vaporesso Luxe X Kit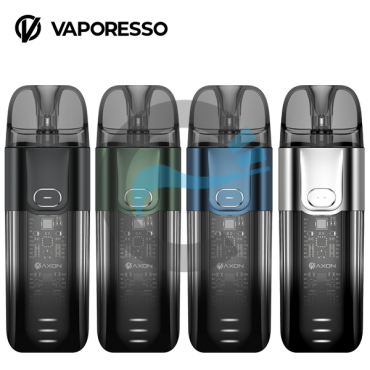 Watch video manual
Brand: Vaporesso
Vaporesso Luxe X Kit
Vaporesso Luxe X Kit 
Vaporesso Luxe X it's 40W Pod system with non-replaceable coils. The transparent body emerges a futuristic style and sense of technology. Supported by the COREX technology and our AXON CHIP, you can experience a surprisingly boosted flavor and bigger clouds from such a small Pod. the SSS Leak-resistant Technology with built in coil can ensure a more mess free experience. LUXE X is the most compact, simple and stylish Pod system that can do DTL.

Accurate Flavor lasting 50% Longer
The innovative COREX heating technology applied with unique Morph-Mesh structure and Cumulus Cotton with Micro-fiber, ensures more rapid and even heating. It improves the Vaporization Efficiency Rati by 50% to provide sheer flavor accuracy and longer lifespan.
 It Is Small But It Can Do DTL
LUXE X Easily switch the Pod to adjust the airflow from Loose to Tight, to enjoy big Clouds Mode or Small Cloud Mode Freely. The LUXE X pods are fully compatible on the LUXE XR

Slim Body With Mighty Power
1500mAh High Density battery make it slim size but last all day.40 Watts Output To Support Real DTL Vaping Experience. AXON Chip with Smart Control To Recognize POD Resistance.
Anti Leaking Anti Messing
SSS Leak-Resistant Technlogy with the built in coil to lock the liquid inside and maximally reduce the leaking.

No Misfires
Auto Lock the device after 8s pressing and secured mode to protect from accidentally misfiring.

Available colours:
• Black
• Blue
• Green
• Silver
How to charge
• Easy to charge via Micro Type-C USB port. When battery indicate that is full, disconnect the wire. Never leave connected for night time and never leave the device connected to the charger unattended. If you do, you do so at your own risk.

Check the battery level:
• 3 LED lights 60% - 100%
• 2 LED lights 30% - 60%
• 1 LED light 0% - 30%

How to fill
Take out the used POD from the battery and pull out the silicone plug from the bottom of the POD. Fill eliquid through the hole. Put the silicone plug back in place firmly after filling is finish.

Please let the POD stand for 5 minutes, so the cotton in coil can be saturated with juice before using.

Note:
1. Please don't overfill and make sure the e-liquid level is between 10%-90%.
2. Please use proper PG/VG ratio liquids for this type of tank
Replace the POD
Take out the used POD from battery. Install a new POD to the battery and make sure they are firmly connected

Main features: 
• Dimension: 98 x 31.5 x 21.6mm
• Battery capacity: 1500mAh
• Pod capacity: 2ml
• Cartridge resistance: 0.4Ω Mesh POD; 0.6Ω Mesh POD; 0.8Ω Mesh POD
• Output Power: 40W MAX
• Charging: Type-C, 5V/1A
• Adjustable airflow: Yes
• Display: 3x LED Light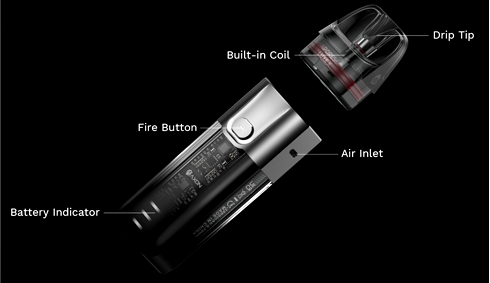 Sub ohm device. Worth reading before buying:
For Sub ohm POD we recommend that you do not use liquids with nicotine higher than 6mg/ml or Salts and only good quality liquids with at least 50/50 PG / VG or higher VG. Devices of this type produce a lot more of vape, which results in a stronger hit to the throat (like higher nicotine in the basic device). Ask if you're not sure ... we don't bite ;-)
The kit contains:
• 1 x VAPORESSO Luxe X Battery
• 1 x Vaporesso Luxe X 0.4Ω MESH POD (2ml)
• 1 x Vaporesso Luxe X 0.8Ω MESH POD (2ml)
• 1 x Type-C USB Cable
• 1 x User Manual

The warranty period for particular kit elements is: 
30 days from date of purchase:
• Luxe X Battery

The warranty does not cover Coils or POD, as these part are quickly used up while the products are put to normal use

IMPORTANT! When using a new coil / POD, let the POD stand for 5 minutes, so the cotton can be saturated with juice before firing. Do not let the POD become completely empty. Refill the POD become completely empty. Refill the POD to avoid dry burning or damage to the coil / POD.