Genuine KangerTech ™ CE4 Blister E cigarette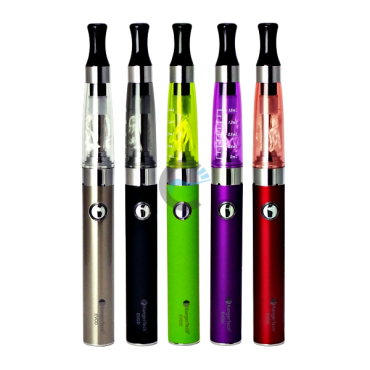 Watch video manual
Brand: KangerTech
Genuine KangerTech ™ CE4 Blister E cigarette
Original KangerTech CE4 Blister Starter Kit E cigarette. Ideal ecig to start your adventure with vaping.

Available colours:
• Black
• Stainless
• Green
• Cherry
• Purple

Main features:
• 1.6ml liquid capacity.
• Battery threading: eGo / 510
• Clearomizer threading: eGo
• Colours available: black, steel, cherry, purple, green.
• Easy filling
• Clearomizer NOT rebuildable
• Long wicks
• Clearomizer resistance: 1.8ohm.

KangerTech CE4 Blister Kit Packing Details:
• 1x - 650mah ego battery (5 times click to turn on/off)
• 1x - Clearomizer CE4 (NOT rebuildable)
• 1x - USB charger
• 1x - English manual

How to fill the KangerTech ™ CE4 Long-Wick Clearomizer:
1. Unscrew the mouthpiece.
2. Tilt clearomizer at 45 degree angle.
3. Insert needle tip and fill with e-liquid (avoid small metal hole)
4. Fill clearomizer to top fill line.
5. Screw mouthpiece back on.

Using your KangerTech CE4 Blister:
1. Hold the button on the battery and draw in air gently through the clearomizer.
2. Release the button after you are done inhaling.
3. Slow, gentle draw work best.

Clearomizer CE4:
1. Clearomizer must be replaced every 1-2 weeks.
2. Occasionally clean the contacts (screw joint) on the battery and clearomizer.
3. If the clearomizer overheats (burn taste), let it rest for a few minutes before continuing use. (If you still feel burnt taste, replace clearomizer with a new one)

Battery charging
1. Gently screw the battery into charger.
2. Light on charger is red when charging and green when fully charged. (It takes 3 hours to fully charge and may remain in charger)
3. battery has a locking feature. to lock or unlock, press the button 5 times rapidly.
Red light on charger when battery connected - battery is discharged and is now charging
Green light on charger when battery is connected - battery is fully charged. Disconnect the battery from the charger.

The warranty period for particular kit elements is:
2 months from date of purchase:
• 650 mAh battery

The warranty does not cover Coils or Clearomizer, as these part are quickly used up while the products are put to normal use.


Tip - All batteries come with a 5-Click ON/OFF feature. This can help prevent you from unintentionally turning the battery ON. Simply press the button 5 times quickly in 2 seconds to turn the battery ON or OFF.


Caution:
1. Do not charge the cell outdoors and keep away from water.
2. Do not use this battery for others purpose except only for vaping
3. Do not touch or spill the nicotine juice
4. Do not try to disassemble the battery
5. Do not disposal battery to fire or use it in extreme temperature
6. Suitable range of using temperature is 5 - 45 degree C
7. Do not use e-cigarette while driving
8. Do not swallow the e-juice
9. Do not use the electronic cigarette more frequently or for longer periods than conventional cigarettes. The electronic cigarette is not a smoking cassation device.
10. Choose suitable wattage to prevent damage to the coil
11. Keep all components away from children and pets
12. This kit is intended for use by adults and not by children, women who are pregnant or person having disease or sick which may affect by this product
13. For people with adverse reaction after using this product, it is recommended to use the e-liquid with lower nicotine content or no nicotine
14. Improper use of this product may take their own risk
15. KangerTech and eCigarettes World will not guarantee products that have been damaged by improper use or intentional damage