Eleaf iStick i40 Battery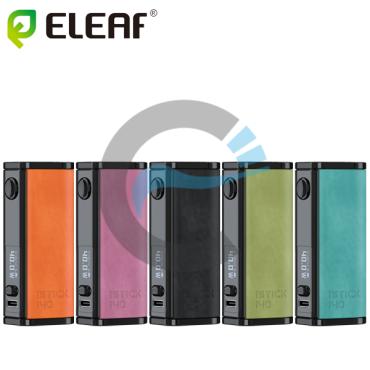 Brand: Eleaf - iSmoka
Eleaf iStick i40 Battery
Eleaf iStick i40 Battery
Eleaf iStick i40 battery a perfect combination of leather and metallic materials, embellished with eye-popping colors, makes Eleaf iStick i40 simply beautiful and outstanding. The minimalist design and ergonomic shape make Eleaf iStick i40 ultra compact and comfortable to hold and carry. Eleaf iStick i40 satisfies all your needs to your preference with optional VW / VV mode. Packed with a large 2600mAh battery inside, Eleaf iStick i40 will be at your side throughout the day while keeping in an ultra portable size for easy carry.
Eleaf iStick i40 parameters:
• Size: 34mm*25.2mm*77.6mm
• Battery capacity: 2600mAh
• Variable Wattage: 1-40W
• Variable Voltage: 0.5-8V
• Charging Current: 5V / 1A (USB-C)

Features:
• Eye-popping Colors
• Comfortable Grip
• Customize Your Vaping Experience
• Extend Vaping Enjoyment
• Battery comes with the USB C
.
Great battery
comes with the USB C makes fast charging a reality. It will only take you 1 hour and 30 minutes to fully charge the 2600mAh battery of the iStick i40.
Multiple protections
• Over-charge Protection
• Over-discharge Protection
• Over-current Protection
• Over 10s Protection
• Short Circuit Protection
Kit content:
• 1x iStick i40
• 1x USB Type-C Cable

How to charge
• Easy to charge via Micro 5pin USB port. When battery indicate that is full, disconnect the wire. Never leave connected for night time and never leave the device connected to the charger unattended. If you do, you do so at your own risk.
Sub ohm device. Worth reading before buying:
This type of device is intended for the user with grater knowledge and experience. Coils used are below 1.0 ohm so that higher Wattage could be used. Before you use please read manual. Often, this kits are equipped with additional options that allow you to adjust Wattage.
For Sub ohm devices we recommend that you do not use liquids with nicotine higher than 6mg / ml and only good quality liquids with 50/50 PG / VG or higher VG. Devices of this type produce a lot more of vape, which results in a stronger hit to the throat (like higher nicotine in the basic device). Ask if you're not sure ... we don't bite ;-)
The warranty period for particular kit elements is: 
2 months from date of purchase:
• Eleaf iStick i40 battery

The warranty does not cover Coils or Clearomizer, as these part are quickly used up while the products are put to normal use.

Tip - All batteries come with a 5-Click ON/OFF feature. This can help prevent you from unintentionally turning the battery ON. Simply press the button 5 times quickly in 2 seconds to turn the battery ON or OFF