Eleaf MELO 4 D22 atomizer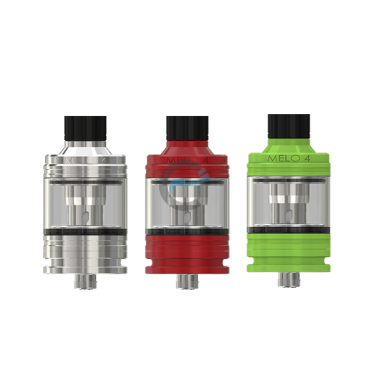 Eleaf MELO 4 D22 atomizer
Eleaf MELO 4 D22 atomizer
The MELO 4 atomizer features an all-new EC2 series coil which is the upgraded version based on original popular EC coils, bringing you ultimate vaping experience with nice flavor. The retractable top fill system makes it really easy to fill the tank. You just need to slide the drip tip back and it reveals the fill port. The dual large air inlets allow optimal airflow for great vapor production. Not only does the MELO 4 come in various colors for your choice and 22mm diameter with 2ml capacity.


Eleaf MELO 4 atomizer parameters:
• Diameter: 22mm
• Height: 52.5mm
• E-liquid capacity: 2ml
• Weight: 46.8g
• Thread type: 510 thread
• Color: silver, greenery, red
Convenient Retractable Top Fill
To fill the MELO 4 tank, you just need to slide the top cap with drip tip back to reveal the fill port.


Detachable Parts for Easy Cleaning
All parts of the MELO 4 tank can be detached and reassembled, much more convenient to clean the tank.


Dual Air Inlets with Optimal Airflow
The dual air inlets allow enhanced airflow for great vapor production. And the airflow is adjustable by turning the airflow control ring.
MELO 4 content:
• 1×ELLO Atomizer (2ml)
• 1×EC2 0.3ohm (pre-instaled)
• 1×EC2 0.5ohm
• Spare Parts
• User Manuals

The warranty period:
The warranty does not cover Coils or Clearomizer, as these parts are quickly used up while the products are put to normal use.


Additional important information about Sub-Ohm vaping:
Device designed for Sub-Ohm vaping. To safely use this device more vaping experience is required. You should take extra care when you use Sub-Ohm tank. Sub-Ohm coils will only work with a MOD which is capable to work with Sub-Ohm atomizer. Ni200 coils will only work with devices with temperature control (TC). Please make sure that the battery parameters meet the requirements of the device.
Sub-Ohm coils produces bigger throat hit than standard coils. Please make sure that you use liquid with proper nicotine level. We recomend to use lower nicotine level than you have used in standard clearomizer.