Aspire Zelos 50W Kit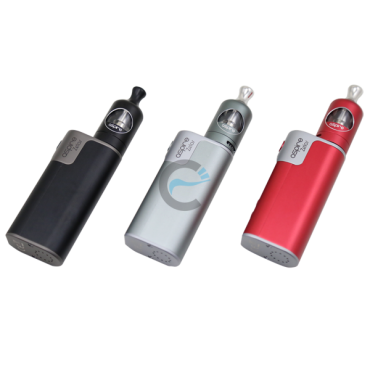 Watch video manual
Brand: Aspire
Aspire Zelos 50W Kit
Aspire Zelos 50W Kit
Zelos, a compact and ergonomic vaping mod from Aspire powered by a 2500mah built-in Li-Po battery. Wattage can reach up to 50W. Variable voltage and wattage device. In addition to its precise TC settings, the new firmware ensures its wattage can also be adjusted under TC mode, with all that added together with the Nautilus 2 mouth to lung 2ml tank. The latest in the Nautilus series, sleek, curvy design equipped with a 1.8ohm BVC coil. Top-fill design keeps things clean and interchangeable coils with other Nautilus coils allows you to personalize your coil/cloud producing preference. Kit available in a range of anodized and matte colors.

Aspire Zelos 50W Kit:
• Thickness: 38mm
• Height: 128mm
• E-liquid capacity: 2ml
• 50 Watts
• Kanthal with Organic cotton
• Micro USB charging port
• Standard 510 connection with airflow inlets
• top fill clearomizer
 
Tip - The batteries all come with a 5-Click ON/OFF feature. This can help prevent you from unintentionally turning the battery ON. Simply press the button 5 times in a row manually to turn the battery either ON or OFF.  
Content:
• 1x Nautilus 2 Clearomizer 1.8ohm (4,2 - 5,0V)
• 1x Zelos 50W
• 1x USB Cable
• 1x User Manual

How to charge
• Easy to charge via Micro 5pin USB port. When battery indicate that is full, disconnect the wire. Never leave connected for night time and never leave the device connected to the charger unattended. If you do, you do so at your own risk.

How to fill
Top E-liquid Filling: The e-liquid can easily be filled by removing the top cap only. Please let the tank stand for 5 minutes, so the cotton can be saturated with juice before using.
Note:
1. Please don't add e-liquid into the air pipe.
2. Please don't overfill and make sure the e-liquid level is between 10%-90%.
3. Please first drip a few drops of e-liquid directly into the wick of the coil to make it fully saturated before first use.
4. Please use proper PG/VG ratio liquids for this type of tank. Recomended PG:VG ratio is 50:50
How to fit / exchange coil
1. Make sure the device is turned off
2. Unscrew the top cap
3. Screw the coil tightly all the way in (a loose coil will cause the clearomizer to leak from airflow)
4. Mount the plastic / glass tube
5. Now is the time to fill the tank with liquid and screw the top cap
6. Unlock your device

IMPORTANT! When using a new coil, let the device stand for 5 minutes, so the cotton can be saturated with juice before firing. Do not let the tank become completely empty. Refill the tank to avoid dry burning or damage to the coil. 

The warranty period for particular kit elements is: 
2 months from date of purchase:
• Zelos 50W

The warranty does not cover Coils or Clearomizer, as these part are quickly used up while the products are put to normal use.