Genuine KangerTech ™ T2 Mini Clearomizer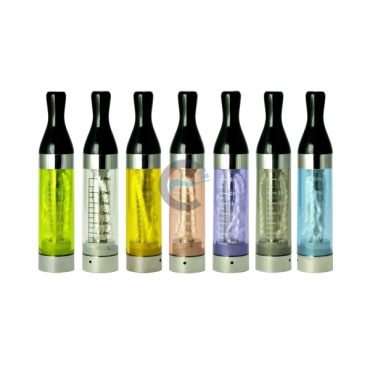 Brand: KangerTech
Genuine KangerTech ™ T2 Mini Clearomizer
The Kanger T2 Clearomizer is a solid top feeder eGo style Clearomizer. The coils are replaceable and are installed on the top side. The T2 has great performance and no leaking.

KangerTech T2 clearomizer specifications:
• Resistance: 1.8 ohms
• Clearomizer : heating coil is replaceable
• Capacity : 2.0ml
• Suitable voltage : 3.2 - 3.7V
• Ego thread capable

Instructions to disassemble and replace the coil head:
1. Unscrew the mouthpiece from the sleeve .
2. Unscrew the coil head.
3. Grab a new coil head and screw it to the body.
4. Nowr, refill e liquid. Then wait 5 minutes to the coil head was properly moistened. Now you can start vaping.

Instructions how to fill / refill the Clearomizer:
• Unscrew the driptip from the clearomizer 
• Fill with with e-liquid – Never filling to more than about 95% capacity. 
• DO NOT fill the e-liquid into the center hole, please drip against the wall. 
• Screw the mouth piece back. 
• Wait 2 minutes for the eliquid to soak into the coil.

IMPORTANT! When using a new atomizer / clearomizer, let the tank stand for 2 minutes, so the cotton can be saturated with juice before firing.Do not let the tank become completely empty. Refill the tank become completely empty. Refill the tank to avoid dry burning or damage to the atomizer / clearomizer. 

Waranty:
The warranty does not cover Coils or Clearomizer, as these part are quickly used up while the products are put to normal use.